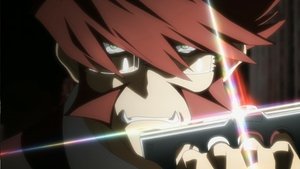 1x1 – Geheimorganisation der versiegelten Stadt der Magie
Leonardo Watch besucht Jerusalems Lot aus einem bestimmten Grund. Er ist als eine andere Person nach Ligra, eine geheime Gesellschaft von Super-Menschen, gekommen. Bald darauf beginnt Femto ein schreckliches Spiel in der Stadt.
Gesehen von 3 Usern
1x2 – Schnappt den Phantom Ghost Wagon
When Leonardo saw one station wagon of the laundry, at a glance he noticed the contents of the baggage. Zapp was with Leonardo, he'd hurried to contact Libra.
Gesehen von 3 Usern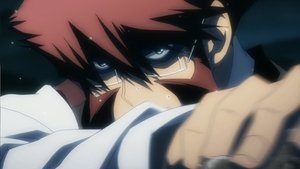 1x3 – Spiel zweier Welten
"Angel Scale", the name of a strong psychoactive drug brought in from netherworld, and it begin to flow out of Jerusalem's Lot. Klaus takes the problem seriously, he goes to a big-shot of netherworld to demand information.
Gesehen von 3 Usern
1x4 – Fiebrige Blutlinie
In the subway, Leonardo found a person having the wing which shined red. Klaus was surprised to hear it, he call in his mentor; a vampire hunter, Blitz T. Abrams.
Gesehen von 3 Usern
1x5 – Der bebende Bluthammer
Aligura also known as "Queen of Monomania" drives a huge monster-truck recklessly toward Pandorum Asylum; a prison for super-human criminals. She wants to meet her beloved man in there.
Gesehen von 3 Usern
1x6 – Vergiss nicht, mich nicht zu vergessen
Leonardo encounters an innocent netherworld's boy named Nej nearby Ghetto Heights where is the exactly same as old NYC. They cultivate friendship.
Gesehen von 3 Usern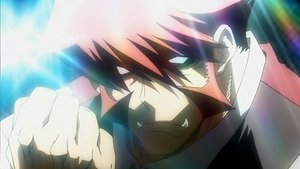 1x7 – Kompromissloses E-den
Klaus and Leonardo goes to an underground-arena named Eden because Zapp called for help from there.
Gesehen von 3 Usern
1x8 – Zs längster Tag (Teil 1)
A Blood-Breed appeared in India, the lower of his body invades Jerusalem's Lot as he fights against someone.
Gesehen von 3 Usern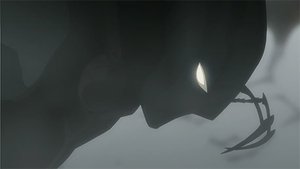 1x9 – Zs längster Tag (Teil 2)
The upper half of Blood-Breed's body also tries to invade Jerusalem's Lot from the sky. "King of Despair" looks up it happily.
Gesehen von 3 Usern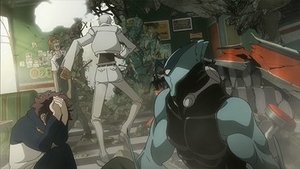 1x10 – Lauf!!
Although Zapp and Zed are fellow pupils, they don't always agree. Leonardo asks them to go out for lunch because he wants to support any friendly relations between them.
Gesehen von 3 Usern
1x11 – Schwarz
The mixed twins was born in Macbeth family which has PSI; supernatural power. White, the little twin sister can't use her power at all. On the other hand, Black, the elder twin brother has very strong power. The past of twins is revealed in the end.
Gesehen von 3 Usern
1x12 – "Hallo, Welt!"
"King of Despair" tries to break down the barrier between the netherworld and Jerusalem's Lot by using Leonardo's "All Seeing Eyes of God". Libra and LHOS work closely together to find Leonardo and Macbeth twins.
Gesehen von 3 Usern
1x13 – Ousama no Restaurant no Ousama
Know what this is about? Be the first one to add a plot.
Gesehen von 2 Usern
Quelle:
themoviedb.org