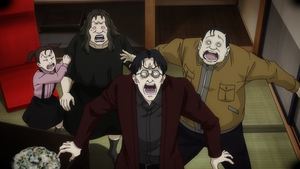 1x1 – Episode 1
A photographer with an interest in spirits and ghosts pays a visit to the very strange and creepy home where the six Hikizuri siblings live.
Gesehen von 2 Usern
1x2 – Episode 2
Goro returns to the tunnel he saw his mother once walk into. An ice cream truck arrives in the neighbourhood, driven by a bewitching young man.
Gesehen von 2 Usern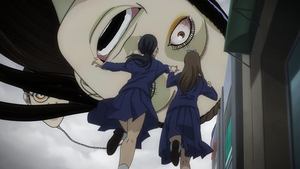 1x3 – Episode 3
Huge balloons with people's faces and loops attached to them appear in the sky over Japan.
Gesehen von 2 Usern
1x4 – Episode 4
Koichi can't study because his younger brother Soichi is constantly making noise. Tormented by his dreams, Yuji asks his friend Mari to keep him awake.
Gesehen von 2 Usern
1x5 – Episode 5
The world of dreams is very vast and sometimes more real than the real world. Here the protagonist of this story is escaping from his alter-ego of this world of dreams. His friend will try to help although it looks impossible.
Gesehen von 2 Usern
1x6 – Episode 6
A thick layer of mold invades a man's home after hosting people while he was away. In the library of a man obsessed with books some manuscripts disappear.
Gesehen von 2 Usern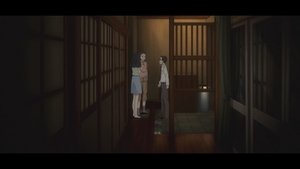 1x7 – Episode 7
After hitting a girl with his car, Tsuyoshi and his sister Kaoru find that the road they're driving on is blocked by countless tombstones.
Gesehen von 2 Usern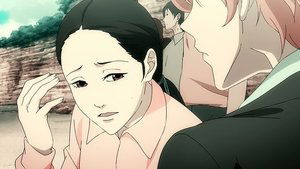 1x8 – Episode 8
An archaeologist discovers a tomb made up of several layers of earth. A mysterious sea creature is found stranded on the shoreline.
Gesehen von 2 Usern
1x9 – Episode 9
A menacing transfer student named Tomie isn't happy that a girl named Tsukiko has been taking and selling pictures of popular boys in their school.
Gesehen von 2 Usern
1x10 – Episode 10
Two friends get lost in the mountains and come across a community of ascetic monks. Kuriko ends up bullying a younger boy she's been playing with.
Gesehen von 2 Usern
1x11 – Episode 11
A young man moves into a boarding house next to an enclosed alley. An art teacher known for his headless sculptures is found murdered - with no head.
Gesehen von 2 Usern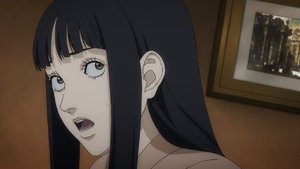 1x12 – Episode 12
A mysterious woman calmly takes on the job of helping a hysterical girl unable to make decisions on her own. Soichi's family adopts a pet cat.
Gesehen von 2 Usern
Quelle:
themoviedb.org