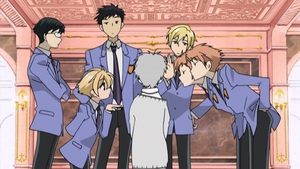 1x1 – Von heute an bist du ein Host!
Seeking quietude for study at an elite academy, honors student Haruhi Fujioka comes upon the school's Host Club - six elite boys who host parties for girl classmates - and becomes its newest and most reluctant member.
Gesehen von 2 Usern
1x2 – Die Arbeit eines Oberschüler Hosts
Kanako the chronic host-hopper (a girl who changes from host to host at regular intervals) gets the attention of Host Club, who decide to target her for happiness.
Gesehen von 2 Usern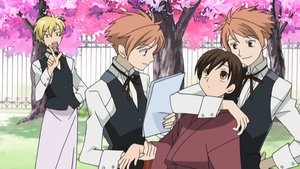 1x3 – Vorsicht vor der ärztlichen Untersuchung
Tamaki, jealous that the twins get to spend far more time with Haruhi than he, wants her sex revealed, but that may occur on its own with school physicals coming.
Gesehen von 1 User
1x4 – Überfall eines weiblichen Managers
A delusional girl obsessed with Sims (virtual people) believes Kyoya (who looks like one of them) is her fiancé and forces herself on Host Club as its new manager.
Gesehen von 1 User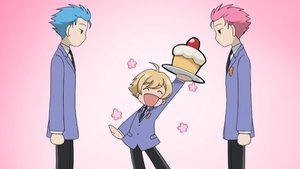 1x5 – Die Zwillinge streiten sich
Haruhi's ability to tell one identical Hitachiin twin from the other sparks a furious fight between the twins.
Gesehen von 1 User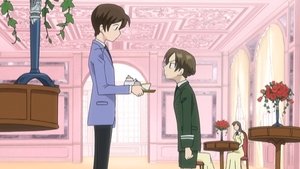 1x6 – Der Grundschüler Host ist ein Frechdachs
A desperate 5th-grader comes to Host Club demanding to be taught how to be a ladies man but his negative reactions toward the hosts call into question his motives.
Gesehen von 1 User
1x7 – Jungle Pool SOS
Enjoyment at a family-owned indoor tropical pool park turns into a Jurassic Park-like disaster for Host Club members due to discarded banana peels and live alligators from the tropical exhibit.
Gesehen von 1 User
1x8 – Sonne, Meer und Host Club
A day at the beach is a working holiday for the Host Club, but the boys also decide upon a game to see who among them can discover Haruhi's fear.
Gesehen von 1 User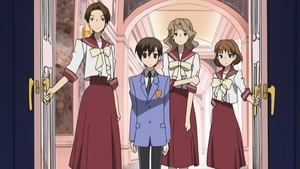 1x9 – Herausforderung der Lobelia-Mädchenschule
The Zuka Club, from a rival all-girls academy, challenges the Host Club for the fair hand of Haruhi, whom they feel has been woefully mistreated by the enforced subjugation of her superior gender.
Gesehen von 1 User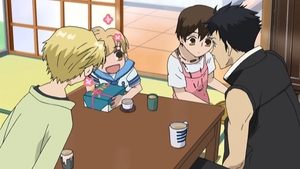 1x10 – Der Alltag der Familie Fujioka.
The Host Club boys pay a surprise visit to Haruhi's home, curious as to how horrifyingly destitute her Commoner's Life can be.
Gesehen von 1 User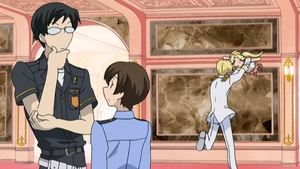 1x11 – Oni-chama ist ein Prinz.
The Host Club handles sibling issues between Ouran's Prince of Darkness and his light-loving little sister, Kirimi.
Gesehen von 1 User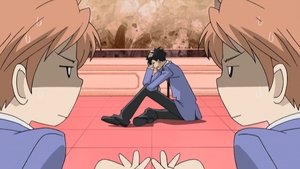 1x12 – Episode 12
Honey chafes at being deprived of sweets because of a tooth cavity, and Mori blames himself for not watching out for him more carefully.
Gesehen von 1 User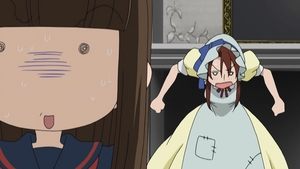 1x13 – Episode 13
Is Haruhi dreaming when she falls down a rabbit hole in Music Room #3 and meets Alice in Wonderland characters who, like characters in Oz to Dorothy, all look strikingly familiar?
Gesehen von 1 User
1x14 – Interviewe den berüchtigten Host Club
While Host Club is a complete success, the Newspaper Club is not, but its president would like to change that with an exposé on the Host Club.
Gesehen von 1 User
1x15 – Der erquickende Kampf in Karuizawa
Haruhi takes a summer job at the bed and breakfast of her father's friend, which bends the host boys out of shape over being abandoned, so they follow.
Gesehen von 1 User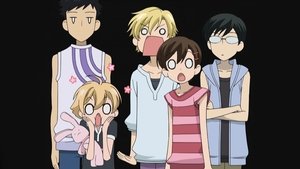 1x16 – Haruhi und Hikaru, der große Plan fürs erste Date
Hikaru and Tamaki's insecurities show when Haruhi runs into a male friend from middle school days, but while Tamaki recovers, Hikaru does not, so Kaoru steps in for his twin's sake.
Gesehen von 1 User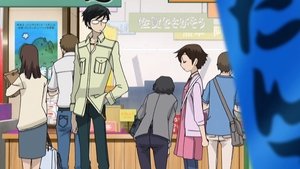 1x17 – Kyoyas ungewollter freier Tag
On the last day of summer vacation, Tamaki decides the elite members of Host Club should go on a field trip to observe commoners in their natural setting - a shopping mall.
Gesehen von 1 User
1x18 – Chika-kuns Erklärung über die Vernichtung Honeys
Honey's family relations are reviewed after younger brother Yasuchika drops by Ouran High School to give Honey a good thrashing.
Gesehen von 1 User
1x19 – Gegenangriff der Lobelia-Mädchenschule
The Zuka Club girls from Lobelia Girls Academy get Haruhi to star in their annual theatrical production honoring President Benio's late mother, but it's really a plot for revenge.
Gesehen von 1 User
1x20 – Die Zwillinge öffneten die Tür.
How the Hitachiin twins come to accept Tamaki's offer to join a new club he's forming.
Gesehen von 1 User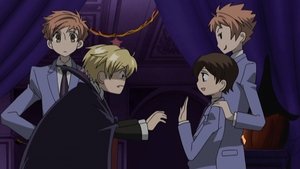 1x21 – Bis es wieder zu einem Kürbis wird.
Haruhi's class puts on a Halloween After Dark Test of Courage Tournament, where the Hitachiin twins take delight in tormenting their multi-phobic class rep/teammate.
Gesehen von 1 User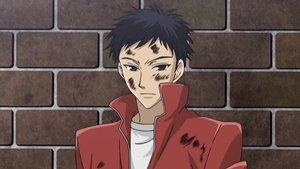 1x22 – Bewerbung als Lehrling bei Mori-senpai
The heir to a crime syndicate comes to Host Club to be Mori's apprentice, hoping for a share in his secret of having friends while owning a scary face.
Gesehen von 1 User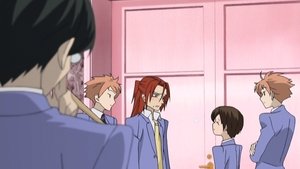 1x23 – Tamakis unbewusste Melancholie
Having discovered Haruhi's gender secret, Kasanoda comes to Host Club to court her, unaware that his actions misidentify his sexuality.
Gesehen von 1 User
1x24 – Und Kyoya hatte eine Begegnung.
Told in flashback, Kyoya recalls for Haruhi how he and Tamaki - a very unlikely pair - got together to start up the Host Club.
Gesehen von 1 User
1x25 – Die Auflösung des Host Clubs.
The Ouran High School Fair provides the catalyst for a pair of disapproving fathers to tip back into their sons' lives, with public humiliation for one and an arranged marriage for the other.
Gesehen von 1 User
1x26 – Das ist unser Ouran-Fest.
With Lady Éclair keeping Tamaki incommunicado before whisking him off to France, remnants of the Host Club make an all-out effort to reach him.
Gesehen von 1 User
Quelle:
themoviedb.org